Santa Anita wants KISS' Gene Simmons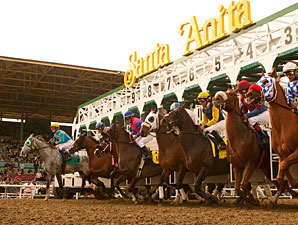 If Santa Anita Park's owners have their way, KISS' Gene Simmons might soon play a starring role at the racetrack.
Frank Stronach, whose Stronach Group owns the historic Arcadia racetrack, met with Simmons earlier this month in Florida. Stronach described the meeting as an effort to recruit Simmons to help market the company's racetracks.
"Gene Simmons is, on the one side, a great entertainer," Stronach said. "On the other side, he's a very smart businessman and a very nice man. We're trying to see (if) maybe he could do some marketing for us. We're just trying to do concepts."
Through his agent Friday, Simmons, who also recently met with Stronach's daughter Belinda at Santa Anita, offered a "no comment".
Stronach's admission that he needs marketing help comes as the track plans to host the Breeders' Cup World Championships on Nov. 2 and 3 and again next year. The last time Santa Anita Park hosted the prestigious thoroughbred racing event was in 2009.
A rock icon who plays bass and sings, Simmons has some experience in marketing. He and his band members are behind the KISS miniature golf course in Las Vegas, a KISS coffeehouse in Myrtle Beach and a team-up with the Hello Kitty brand to market stuffed animals with a rock and roll theme.
Despite several changes in recent months, Stronach, 80, said Santa Anita continues to fall short of his financial expectations for the park. He declined to say by how much.
"There is always room to improve," Stronach said. "I would like to see that Santa Anita will always be racing."
Recruiting Simmons to the cause might just help, racetrack and city officials said.
"He's a real recognizable celebrity in mainstream; it's something that could help the brand, help us become a little bit more mainstream," Santa Anita Park CEO Mark Verge said Friday. "He's had a ton of success with other things besides KISS. I think he would be a great addition."
Arcadia Councilman Mickey Segal said he would encourage Stronach to use "all possible sources" to help sell the historic racetrack in a tough economy.
Simmons "would be one of those new and different sources that might interest and excite others who are currently not involved in racing and activities at Santa Anita," Segal said.
It could "bring in a younger group, it could bring in a different group that didn't even know that Santa Anita existed but follows Gene Simmons."