Ace Frehley Working on New Album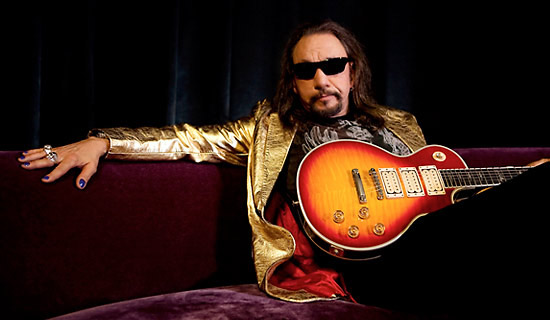 (
from Gibson.com
) Guitar legend Ace Frehley is in the studio working on a new album, the follow-up to the critically-acclaimed Anomaly.
Ace is recording with members of his live band, drummer Matt Starr and bass player Chris Wyse. Starr posted a pic of himself and Ace in the studio on his blog with the caption: "Had a great week in the studio with Ace Frehley and Chris Wyse making some great new music Ace's new record. Stay tuned.
" Wyse added "Had a blast these last few days playing with Ace Frehley and Matt Starr!!! Exciting new record coming from Ace!"
When pressed for further details on his official Facebook fan page, Starr said "No details yet. Just that we're working on it & it's gonna ROCK!"
Starr is a busy guy right now: in addition to stepping into the drummer spot in Ace's band last year when Scot Coogan departed to join Lita Ford, Starr plays with Whitesnake guitarist Doug Aldrich's band Burning Rain and has toured the U.S. and U.K. with Love/Hate. As for Wyse, he's worked with Jerry Cantrell, The Cult, Ozzy Osbourne and Mick Jagger, and is vocalist and bassist of his own band, Owl. He was also one of the bassists who auditioned for Metallica in 2003