On stage: Alice Cooper's Christmas Pudding, sealed with a KISS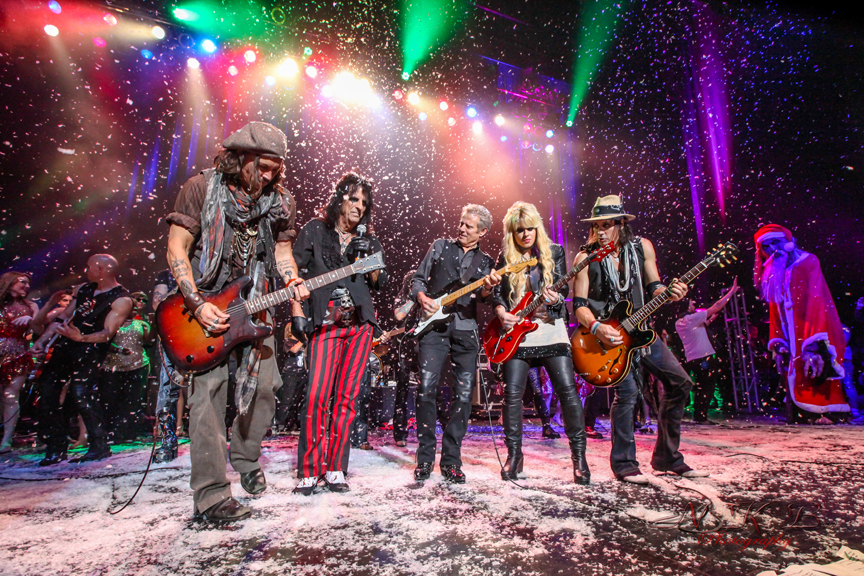 (
eastvalleytribune.com
) Alice Cooper's 13th annual Christmas Pudding is going heavy on the metal — and will be sealed with a KISS.
The Rock and Roll Hall of Famer and shock rocker has enlisted four members of KISS — Gene Simmons, Paul Stanley, Eric Singer and Tommy Thayer — to co-headline his annual holiday music and comedy benefit gala.
They'll be joined by many of rock and metal's biggest stars, including Joan Jett, Rob Zombie, Vince Neil of Motely Crue, Stephen Pearcy of RATT, Tom Keifer of Cinderella, Kip Winger of Winger, and several more guests soon to be announced.
The concert takes place at 7 p.m. Saturday, Dec. 7, at Comerica Theatre. Proceeds from the event directly benefit Alice Cooper's Solid Rock Teen Center.
Former "Seinfeld" and "Family Feud" star John O'Hurley will serve as guest host for the festivities. Blue Collar Comedy Tour's Bill Engvall will be this year's comedian.
"Although I have played more than 100 shows this year, Pudding is the one I look forward to the most," Cooper says. "We love bringing people together for Christmas, for the sake of music and dance, and the mission of Solid Rock."
The Solid Rock Teen Center, located at the southeast corner of Thunderbird Road and 32nd Street in Phoenix, was the dream child of Alice and Sheryl Cooper and took almost a dozen years from concept to realization. It offers teens an outlet for their creativity and gets them off the street.
The 22,000-square-foot facility includes an auditorium, dance studio, and music rooms full of guitars and amps. The center has plans to expand to 60,000 square feet with the proposed addition of a gym and indoor skate park.
Currently, teens can take free classes to learn to play bass, drums, guitar and even vocals and sign up for a variety of dance classes, from ballet to hip-hop to jazz. The center plans to add vocational training in sound, lighting, and staging to provide valuable career training in the music and entertainment industry.
"It really is amazing," Cooper says. "There are 100 kids in here every day. They come in and after school and do their homework here. They hang with their friends and meet new ones. They cannot wait to get down here and learn more guitar, drums, bass, and all types of dance. We are fulfilling a vision we've had for several years…to provide teens with a central place to learn, have fun, and explore their creativity in a supportive and save environment."