Boone County student receives shoutout from Gene Simmons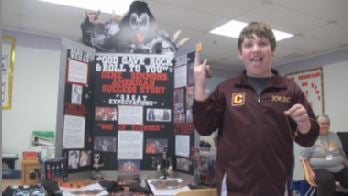 12-year-old Hunter Bowling received a message from Gene Simmons, via the star's facebook page, for his economics school project, focusing on Gene.
Wanting more info than is available in conventional research outlets, Hunter reached out to the rock star's personal assistant. After Hunter found out he won first place at his school on Tuesday, he emailed the personal assistant to say thank you. The assistant emailed his back, telling Hunter to look out for a special message.
The post on Gene Simmons' Facebook page read:
"I'd like to congratulate Hunter Bowling of Sherman Elementary school in Seth, West Virginia on Winning 1st Place on his social Studies Project about ME. 'It's Good To Be You' today, Hunter. Job well done"
WOWK 13 Charleston, Huntington WV News, Weather, Sports